Jedi Council: Acts of War is a trade paperback of the Jedi Council: Acts of War series of comic books written by Randy Stradley and illustrated by Davidé Fabbri.
Publisher's summary
Edit
Even in the days before the shadow of the Phantom Menace falls upon the Republic, the rule of the Senate is no guarantee of peace. When conflicts arise, it is the duty of the Jedi Knights, under the guidance of the Jedi Council, to protect the innocent and restore order. When the warlike Yinchorri threaten the stability of the Republic, a Jedi task force led by Mace Windu and including Qui-Gon Jinn and Obi-Wan Kenobi is sent to the Yinchorri system to settle matters, and they soon find themselves facing overwhelming odds on three different worlds.
Collected issues
Edit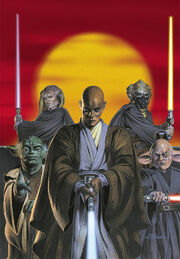 Ad blocker interference detected!
Wikia is a free-to-use site that makes money from advertising. We have a modified experience for viewers using ad blockers

Wikia is not accessible if you've made further modifications. Remove the custom ad blocker rule(s) and the page will load as expected.