This Jedi Master was one of the first members of Luke Skywalker's New Jedi Order.
Biography
Edit
In 14 ABY, the Jedi Master was among the first of the New Jedi Order to reach that prestigious rank; furthermore, he was one of the six Jedi who were assigned students by Master Skywalker to train to Knighthood, in a practice mirroring the Master/Padawan system of old. Later that same year he was a member of the strike force of Jedi Knights that traveled to Korriban to prevent the Disciples of Ragnos from resurrecting their namesake.[1] When Jaden Korr reached the stairway that lead to the Tomb of Marka Ragnos, he was opposing some stormtroopers, a New Reborn, and a couple of Sith Cultists. It is unknown if he survived the battle.
Lightsaber
Edit
The Jedi Master wielded a saberstaff, a rarity among the knights of the New Jedi Order. It had a vindicator-style hilt and green blades.[1]
Behind the scenes
Edit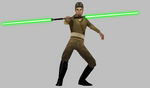 In addition to being used for the original character described above, the Jedi Master's skin was also used as a stand-in for pre-established Jedi for whom a unique skin was unavailable. Corran Horn, possibly Tionne and Streen are all represented by the Jedi Master skin during cutscenes.[1]
It is possible for the Jedi Master to survive the battle if the player helps him.
The Jedi Master was voiced by Dominic Armato and Dee Bradley Baker.
Appearances
Edit
Notes and references
Edit