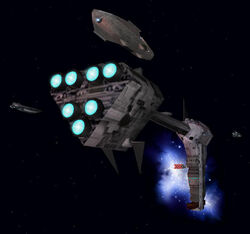 Jericho was a Rebel Alliance-operated Nebulon-B escort frigate during the Galactic Civil War. At the time of the Battle of Hoth and immediately after, it was part of the Defiance Task Force, a group of Rebel ships that had been stationed in the Anoat sector and were trapped there following the Rebels' defeat. Pursued by the Star Destroyer Corrupter and its task force, the small group of vessels were eventually able to escape. During this time, the Jericho housed most of the task force's troops.
Following the reconstitution of the Defiance Task Force, the Jericho's exploits are unknown, save that the vessel worked alongside the cruiser Liberty during the latter ship's operations against the Hurrim pirate group. The Jericho led the Rebel attack on the Hurrim's base of operations, and aided in the eventual destruction of the Corrupter.
Appearances
Edit
Ad blocker interference detected!
Wikia is a free-to-use site that makes money from advertising. We have a modified experience for viewers using ad blockers

Wikia is not accessible if you've made further modifications. Remove the custom ad blocker rule(s) and the page will load as expected.