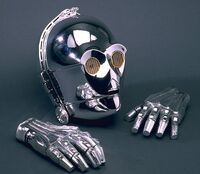 John Fensom is an actor and special effects artist who worked on Star Wars: Episode I The Phantom Menace.
Fensom worked as the additional production assistant for the movie Notting Hill, which was released in 1999, the same year as The Phantom Menace.
He worked on Star Wars Episode I: The Phantom Menace as an animatronics assistant. He was also the person inside the costume of TC-14, the protocol droid that greeted Qui-Gon Jinn and Obi-Wan Kenobi at the beginning of the movie. He was not the voice of TC-14 however; the droid's voice was provided by actress Lindsay Duncan.
External links
Edit
Ad blocker interference detected!
Wikia is a free-to-use site that makes money from advertising. We have a modified experience for viewers using ad blockers

Wikia is not accessible if you've made further modifications. Remove the custom ad blocker rule(s) and the page will load as expected.