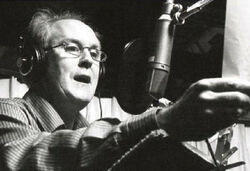 John Lithgow (born October 19, 1945), best known for his many roles as a film and television actor, was the voice of Yoda in the radio adaptations of The Empire Strikes Back and Return of the Jedi.
Lithgow is known for his roles such as Dr. Dick Solomon in Third Rock from the Sun and the voice of Lord Farquaad in the original Shrek film. He is also noted as a children's author for titles such as The Remarkable Farkle McBride and Marsupial Sue.
External links
Edit
Ad blocker interference detected!
Wikia is a free-to-use site that makes money from advertising. We have a modified experience for viewers using ad blockers

Wikia is not accessible if you've made further modifications. Remove the custom ad blocker rule(s) and the page will load as expected.