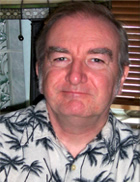 "Initially, I thought they wanted a book set around the first film, and I pitched a story as to why someone as gentle as Luke would enjoy killing Womp rats."
―John Peel describing his writing experience
John Peel was the author of Luke Skywalker's journal, Star Wars Journal: The Fight for Justice.
Star Wars bibliographyEdit
External links
Edit
Ad blocker interference detected!
Wikia is a free-to-use site that makes money from advertising. We have a modified experience for viewers using ad blockers

Wikia is not accessible if you've made further modifications. Remove the custom ad blocker rule(s) and the page will load as expected.