Jubnuk
Talk

32
103,472pages on
this wiki
Jubnuk
Physical description
Species
Gender
Hair color

None

Eye color

Blue

Skin color

Green

Chronological and political information
Era(s)
Affiliation
Jubnuk was one of Jabba Desilijic Tiure's nine Gamorrean guards.
Biography
Edit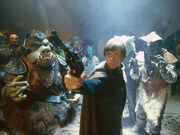 When Luke Skywalker Force pulled a blaster from Nizuc Bek's holster, Jubnuk ran at Luke to protect Jabba from Luke's imminent attack. At the same moment, Jabba released the trap door beneath Skywalker, causing both the Jedi and the Gamorrean to fall into the rancor's pit below.
Upon realizing his predicament, Jubnuk squealed in horror and attempted to climb back up the trapdoor's steep slide to no avail. The rancor approached Jubnuk first, and as his fellow Gamorreans watched and laughed from above, Jubnuk was eaten by the rancor.
One of his hands can be seen stuck in between the Rancor's teeth when the Rancor's trainers mourn for him.
Behind the scenes
Edit
A scene was written (but cut out of the final draft) where Jabba the Hutt named Jubnuk his champion guard, causing him to gain the admiration and respect of all the other Gamorreans. This scene was intended to better illustrate the cruelty of Jabba and his company when they later laugh with enjoyment at Jubnuk's predicament.
Although the rancor clearly bites into Jubnuk before swallowing him, Jabba's Palace Pop-up Book claims that he was later cut out of the stomach of the beast, still alive due to the discovery of a lucky talisman he found inside the stomach.[1]
Appearances
Edit
Notes and references
Edit