"I am privileged to be your sister."
―Karis, to Ventress
Karis was a female Dathomirian and a member of the Nightsisters during the Clone Wars.
Biography
Edit
"Go, and lead us to victory."
―Karis, to Ventress, right before her death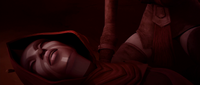 During the Clone Wars, Karis was recognized by her master Talzin as one of the greatest warriors of her Nightsister clan, alongside fellow sister Naa'leth.[4] When Asajj Ventress returned home to Dathomir, Karis was ordered to accompany her and Naa'leth to Serenno in an attempt to assassinate Count Dooku in retribution for his betrayal of Ventress, though they were defeated. Soon after the failed attack on Count Dooku, the Count sent General Grievous to the planet of Dathomir and launched an attack. A vulture droid fired a missile that lead a chain reaction of falling statues from the Temple of the Nightsisters.
Karis was the first person to suffer a casualty because that was the ambush attack that started the Battle of Dathomir against the Confederacy of Independent Systems when a statue (that fell when shot by a droid bomber) crushed her. Asajj Ventress managed to pull her out, but Karis said her last few words about leading the Nightsisters to victory, and died.[4]
Powers and abilities
Edit
In combat Karis was known to use the "raging rancor" battle charge.[5]
Behind the scenes
Edit
Karis is portrayed by actress Catherine Taber.
Appearances
Edit
Notes and references
Edit
↑ 1.0 1.1 1.2 1.3 1.4 1.5 1.6 1.7  Clone Cards: Karis on StarWars.com (content now obsolete; backup link)
Ad blocker interference detected!
Wikia is a free-to-use site that makes money from advertising. We have a modified experience for viewers using ad blockers

Wikia is not accessible if you've made further modifications. Remove the custom ad blocker rule(s) and the page will load as expected.