Karkarodon
Talk

2
107,653pages on
this wiki
Karkarodon
Biological classification
Designation
Physical characteristics
Skin color

Gray, Blue, White

Eye color

Black

Distinctions

Multiple rows of sharp teeth
Powerful jaws

Sociocultural characteristics
Homeworld
Habitat

Aquatic

Diet

Carnivorous

Members
Karkarodons were a species of sentient aggressive aquatics. Some, like Riff Tamson, supported the Confederacy of Independent Systems during the Clone Wars.
Biology and appearance
Edit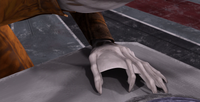 Karkarodons had tall, slim bodies with webbed hands and feet. Their shark-like heads had pointed noses, slits, and many rows of razor-sharp teeth, which they used when attacking and can point out that they were carnivorous. Karkarodons were skilled and fast swimmers, with Separatist Droid Army commander Riff Tamson being able to keep up with a Republic OMS Devilfish sub. They attacked by grabbing the target and used their jaws for ripping and tearing.
In 21 BBY, during the Clone Wars, Separatist Commander Riff Tamson led the Confederacy during the Battle of Mon Cala. During the attempted execution of Lee-Char three unidentified Karkarodons served as the would be exectutioners.
Later, another Unidentified Karkarodon was shown at the Republic Judiciary Central Detention Center who provoked Rako Hardeen (Obi-Wan Kenobi in disguise) and got his hand stabbed with a fork.
Behind the scenes
Edit
Carcharodon is the name of the genus that includes the great white shark.[2]
Appearances
Edit
Notes and references
Edit