Kaye Galfridian
Talk

0
103,459pages on
this wiki
Kaye Galfridian
Biographical information
Homeworld
Born
Physical description
Species
Gender
Hair color
Eye color

Blue[1]

Skin color

Light; freckled[1]

Chronological and political information
Era(s)
Affiliation
"You destroyed everything I was. I know pain."
―Kaye Galfridian to a Yuuzhan Vong
Kaye Galfridian was a Force-sensitive Human female and princess of Artorias during the Yuuzhan Vong War in 25 ABY. Her brother was a prince named Finn while her parents were Queen Nina and King Caled.
During the invasion, Kaye and her mother were captured by the Vong and transferred to the slaveship Tsam P'ah. Kaye volunteered to serve Commander Sha'kel in place of Nina. Later Kaye led an uprising on the Tsam P'ah, aided by fellow prisoner Arbeloa.
Biography
Edit
Battle of Artorias
Edit
"I'll get Dad. I'll be back!"
―Kaye to her mother during the invasion of Artorias
During the early hours of the Yuuzhan Vong invasion, Kaye was shopping with her mother Nina in the market. As they were talking with her mother's friend Jenny, a loud explosion rocked the marketplace, shattering merchandise and flinging debris across the square. Jenny was severely wounded by the flying debris and collapsed in Nina's arms. As Yuuzhan Vong warriors marched through the marketplace, the queen told her daughter to flee the square. Kaye complied, and ran to get help from her father and brother Finn. She had barely reached the outskirts when she was tripped up by an amphistaff. She looked up in horror to see a towering Yuuzhan Vong warrior standing over her.[1]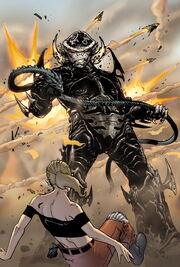 Kaye grabbed a knife on the ground and drove it into the warrior's leg. However, the Yuuzhan Vong pulled the knife from his flesh and tossed it to Kaye, telling her to attack him again. Kaye stabbed again but the warrior still stood. With one final thrust, Kaye managed to kill the Yuuzhan Vong, but was immediately surrounded by more warriors who quickly captured her. Her brother Finn sensed her and their mother being herded towards a Yuuzhan Vong slaveship. Kaye soon found herself in a Yuuzhan Vong holding device with her mother and Jenny.[1]
Meanwhile, her brother Finn and father Caled had attempted to rescue Kaye and her mother from the marketplace but were forced to retreat to a large hangar where they were besieged by Yuuzhan Vong forces. However, they were rescued by Jedi Master Luke Skywalker. Finn was recruited by Skywalker for Jedi training at the Jedi Praxeum on Yavin 4 after demonstrating his Force ability when he sensed his family in danger. Kaye's father was left behind on Artorias with a company of soldiers to keep the Yuuzhan Vong occupiers at bay and to allow more refugees to escape.[1]
On the Tsam P'ahEdit
""If you free me, and we succeed in taking this ship, promise me one thing."
"What?"
"I want the head of Commander Sha'kel."
"It's yours."
"Thank you."
"I really wouldn't want a head anyway. I wouldn't know what to do with it.""
―Arbeloa and Kaye Galfridian aboard the Tsam P'ah
Kaye, her mother, and her fellow Artorian prisoners were transferred to the Yuuzhan Vong slaveship Tsam P'ah where they languished in awful conditions. A Yuuzhan Vong warrior soon approached Nina Galfridian and demanded that she serve the commander of the ship, striking her when she refused. Kaye stepped in and offered herself up to the commander to spare her mother and to save Jenny. She was brought to Commander Sha'kel and forced to sit before him. The commander questioned how such a young woman could kill one of his warriors and informed her about the Yuuzhan Vong's plans to conquer the galaxy. When he finished, he stabbed Kaye in the shoulder with a coufee and sent her back to her prisoners. When Kaye reunited with her mother, she was told that Jenny had died.[4]
As Nina had entered a catatonic state after Jenny's death, Kaye took responsibility for the Artorian slaves and continued to serve Commander Sha'kel in order to gain information on their situation and in order to plan an escape. She also met Arbeloa while on the ship, who noted that while the Yuuzhan Vong were afraid of him and had him bound, they should also have restrained Kaye as well and were misjudging her because of her size. Arbeloa later negotiated with Kaye for his freedom in exchange for both his assistance in the coming battle and the head of Commander Sha'kel.[5]
In a later meeting with Commander Sha'kel, Kaye was informed of the continuing attacks on the planet's surface. When asked by Sha'kel as to the possible source of these attacks, Kaye simply said that the Yuuzhan Vong invasion had left nothing alive on Artorias. As she was sent back with the rest of the prisoners, she noticed that a biot on the guards arm was required to free the prisoners. In addition to finding her mother's state unchanged, she also discovered that Arbeloa had almost freed himself of his bonds and joked that all they needed was an arm rather than a guard if they wished to escape.[6] After Sha'kel deployed reinforcements to the Yuuzhan forces on Artorias, Kaye and Arbeloa staged a diversion in order to draw the guards into an ambush. Using the biot on one of the ambushed guards arms, Kaye then led Arbeloa and the Artorian prisoners into combat against the remaining contingent of Yuuzhan Vong on the Tsam P'ah. Fulfilling her part of their agreement, Kaye allowed Arbeloa to kill Sha'kel and take his head - noting that it was just as well Sha'kel liked pain as it was going to hurt.[7]
Following the conclusion of the battle, Kaye discovered her mother had recovered after she'd realized her father was still alive and fighting the Yuuzhan Vong on Artorias. Kaye then told her mother how Sha'kel had controlled the ship, but wasn't sure if anyone could use it without being killed. When Nina said their was only one way to find out, Kaye moved to enter the seat before her mother said that this burden was hers to bear. While concerned that her mother was in trouble, Nina assured her daughter that she was fine and could control the ship, using it to escape Artorias and protect the Artorians on the vessel.[7]
Personality and traits
Edit
Despite her royal upbringing, Kaye Galfridian was content to go about the marketplace and shop like any other Artorian. She demonstrated great bravery, only reluctantly leaving her mother's side and promising to return with backup despite the presence of Yuuzhan Vong invaders in the marketplace. Her bravery was again shown when she attacked and killed a Yuuzhan Vong warrior and fought another even though she was outnumbered.[1] Her imprisonment on the Tsam P'ah did not sap her bravery; she offered to meet Commander Sha'kel face to face to protect her mother and Jenny.[4] She was perfectly capable of both deception and leadership, as shown during the revolt on the Tsam Pa'h.[7]
Behind the scenes
Edit
Kaye Galfridian was created by Tom Taylor and illustrated by Colin Wilson for the Star Wars: Invasion comic series.[8] The comic series features the Galfridian family as they become separated during the Yuuzhan Vong War. In Star Wars: Invasion 1: Refugees, Part 1, Kaye is revealed to be the Princess of Artorias.[1]
Appearances
Edit
Notes and references
Edit
External links
Edit