Kerkoiden
123,674pages on
this wiki
Talk

2
Kerkoiden
Physical characteristics
Average height
Skin color

Green to dark blue[1]

Hair color

None

Eye color

Red

Distinctions

Snout, long claws, jutting teeth[1]

Average lifespan

Up to 90 standard years[1]

Sociocultural characteristics
Homeworld
Language
Members
Kerkoidens were a rough-skinned alien species with clawed hands and elongated snouts, from the planet Kerkoidia in the Expansion Region.
Biology and appearance
Edit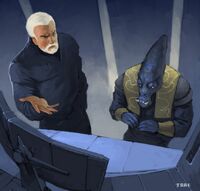 Descendants from the quadruped predators of the savannas and jungles of Kerkoidia, Kerkoidens had long snouts, long claws, and jutting teeth. They were aggressive, but also very cunning beings. The species as a whole had fought its animal instinct to prove to the galaxy that they were civilized and sophisticated.[1]
A notable Kerkoiden was the Separatist General Whorm Loathsom, who led the Retail Clan's droid forces at the Battle of Christophsis in 21 BBY.
Appearances
Edit
Notes and references
Edit