"This is a pleasent little world."
―C-3PO, just before a gundark attack.
Kharzet III was an uncharted planet in the Outer Rim Territories. It was the homeworld of long-necked gundarks.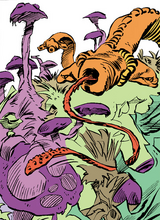 Princess Leia Organa and C-3PO scouted the planet for possible new location for the Rebel base after the Battle of Hoth but they they quickly fled after beign attacked by long-necked gundarks.
Appearances
Edit
Notes and references
Edit