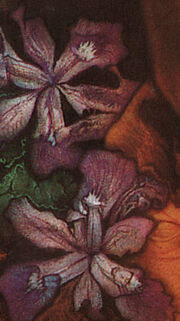 "A Ho'Din healer never lies
Kibo plants cure the eyes
So rare and hard to find
For the blind man, so very kind."
―Baji
The Kibo was a rare, purple flowering plant native to Yavin 4. Its scent was strong and sweet and the seeds of the Kibo could restore sight.
When Trioculus attacked Yavin 4 in 5 ABY, the fires he started brought the Kibo to the brink of extinction. Many years later, Galactic Alliance Chief of State Cal Omas kept a Kibo blossom in bronzium vase on his desk.
Appearances
Edit
Ad blocker interference detected!
Wikia is a free-to-use site that makes money from advertising. We have a modified experience for viewers using ad blockers

Wikia is not accessible if you've made further modifications. Remove the custom ad blocker rule(s) and the page will load as expected.