Kilmaulsi
Talk

0
103,484pages on
this wiki
Kilmaulsi
Designation
Classification
Homeworld
Language
Height of average adult

1.7 meters

Skin color

Green

Feather color

Violet

Eye color

Blue

Distinctions

Beak
Absence of wing
Armored thoraxes
The Kilmaulsi were sentient avians indigenous to Kilmaulsias. They possessed no wings, but had colorful ruffs of feathers under their jaws and along their arms.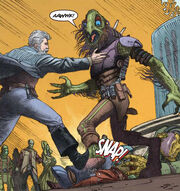 The Kilmaulsi were engaged in savage religious wars among rival tribes when they were first contacted by explorers from the Commonality, including Vorzydiaks, Paiguns, and Hrakians. Alien contact had a profound effect on the Kilmaulsi, prompting them to end their bitter rivalries and migrate offworld to seek their fortunes among the stars. They retained their warrior's ferocity, however. An average Kilmaulsi stood 1.7 meters and had a burly, muscular physique. They were prized as soldiers, mercenaries, and guards, as well as manual labor.
Kilmaulsi soldiers sometimes wore traditional suits of green battle armor, with ornate feathery patterns. Kilmaulsi were also known to enter a frenzied state in battle, much like the Wookiee berserkers.
Common Kilmaulsi names
Edit
Appearances
Edit
Notes and references
Edit