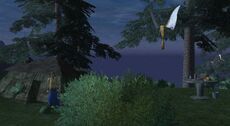 "Kippy Martin was a former security officer at Stonewall Labs, but she had to quit after falling off of a speeder while moving at close to top speed. Kippy didn't seem to be badly hurt, but was never the same again. She might still have her security beacon."
―Vance Groten
Kippy Martin was a Human female who lived during the time of the Galactic Civil War. She took up residence on the Mid Rim world of Naboo to work as a security officer for Stonewall Labs. However, according to a man named Vance Groten, she had to quit after falling off a speeder while reaching close to top speed. Kippy was not badly hurt, but she was never the same since the accident. Sometime following the Battle of Yavin in 0 BBY, Kippy Martin stayed at a camp in the Gallo Mountains near Dee'ja Peak. While there, she was pestered by a swarm of starving flewts.[1]
Behind the scenes
Edit
Kippy Martin was a non-player character in the 2003 video game Star Wars Galaxies: An Empire Divided, a massively multiplayer online-role playing game developed by Sony Online Entertainment and published by LucasArts, prior to its closure on December 15, 2011.[1][2]
Appearances
Edit
External links
Edit
Notes and references
Edit
Ad blocker interference detected!
Wikia is a free-to-use site that makes money from advertising. We have a modified experience for viewers using ad blockers

Wikia is not accessible if you've made further modifications. Remove the custom ad blocker rule(s) and the page will load as expected.