Kirdo III
Talk

0
103,501pages on
this wiki
Kirdo III
Astrographical
Region
Sector
System
Grid coordinates

N-19

Physical
Primary terrain

Deserts
Hills
Mud plains
Caves

Points of interest
Societal
Native species
Primary language(s)
Affiliation
Kirdo III was a planet in the Tamarin sector of the Outer Rim Territories, located on the Sanrafsix Corridor between Sevarcos and Ma'ar Shaddam[1]. It was the home world of the Kitonak race.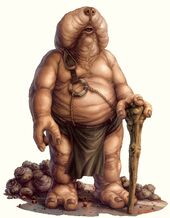 It was a desert world, much worse than Tatooine, with yellow-orange hills, white sand, and red plains of dried mud. 400-kilometer-per-hour winds regularly blew across the white sand plains of the planet, causing sandstorms. Rainfall was extremely scarce, happening about once a decade, but once it did rain, it could last several days, filling dry lake and riverbeds.
The primary fauna on Kirdo III was the chooba, that grazed on the local sulfaro plant. The Kitonaks would mimic the plants to eat the chooba. There were many caves and quicksand pits on Kirdo III, the two things that the Kitonaks feared.
Kirdo III was frequently raided for slaves. The Eye of Palpatine stopped at the planet and, failing to find the stormtroopers it was looking for, took onboard a number of Kitonaks whom it tried (with little success) to brainwash into being Imperials.
Callista Ming at some point in her travels stopped at Kirdo III.
Behind the scenes
Edit
In A Guide to the Star Wars Universe, Second Edition, it is referred to as Kirdo.
Appearances
Edit
Notes and references
Edit