Kithaba was a famous Klatooinian assassin who served as a skiff guard for Jabba Desilijic Tiure. He had intended to become a musician after his retirement. Information discovered after his death points to a plan to kill Jabba. Kithaba was on the first skiff during the Battle of the Great Pit of Carkoon, and was devoured by the sarlacc during that battle. Although he was the first skiff guard knocked off by Luke Skywalker, he was the last one seen alive during the skirmish.
Behind the scenes
Edit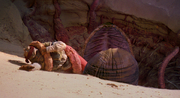 Kithaba is seen being dragged into the sarlacc, but he is often mistaken for Barada who gets slashed by Luke.
The original Kenner figure was sculpted to look like Barada, but was painted to resemble Kithaba.
Appearances
Edit
Notes and references
Edit
Ad blocker interference detected!
Wikia is a free-to-use site that makes money from advertising. We have a modified experience for viewers using ad blockers

Wikia is not accessible if you've made further modifications. Remove the custom ad blocker rule(s) and the page will load as expected.