Kligson
Talk

2
107,516pages on
this wiki
Kligson
Physical description
Species
Gender
Hair color

None

Cybernetics

Numerous prosthetic replacements

Chronological and political information
Era(s)
Affiliation
"There's an electronics genius named Kligson who could help us. He lives all alone on a place called Droid World. But the man's a bit strange, downright weird if you ask me."
―A Rebel soldier to Luke Skywalker
Kligson was a Human cyborg who was a veteran of the Clone Wars.
Biography
Edit
Kligson suffered grievous injuries during the brutal conflict of the Clone Wars. He was saved only by massive cybernetic surgery. After the surgery, his body was composed almost entirely of cybernetic parts. His experiences from the war led him to become a reclusive hermit, as he had become scarred both mentally, as well as physically, by the war. Kligson became disenchanted with organic beings, and vowed to avoid contact with all organics. From then on, he surrounded himself exclusively with droids.
In order to secure the privacy and isolation that he wished, Kligson created a massive mobile space platform in an unexplored star system. This space station became known as Kligson's Moon, but was also known as "Droid World". Few organics survived encounters with the roving platform, though rumors and myths began to spread among hardened spacers. During the time of Palpatine's New Order, Kligson remained hidden from most people, though certain members of the Rebel Alliance had heard of him.
Luke Skywalker contacted Kligson after encountering his floating space station on behalf of the Rebel Alliance. The leader of Droid World was unwilling to meet with a Human until Skywalker stated that he wished for Kligson's help in studying an Imperial Warbot. An intrigued Kligson agreed to help, but stated that he would not allow a Human onboard his space station, and that if he repaired the warbot, he would keep it. Skywalker agreed to this, after which he sent R2-D2 and C-3PO aboard to observe the repair process.
It was during this time that Kligon's assistant droid, Z-X3, attempted to kill Droid World's leader in an effort to take control of Kligson's Moon. As part of his rebellion, Z-X3 attempted to kill Kligson, but instead destroyed his droid duplicate. This provided Kligson with proof of Z-X3's Imperial allegiance, and he built an army to combat the traitorous droid's insurrection. The ensuing conflict devastated Droid World. Although Kligson emerged as the victor of the battle, he deeply lamented the loss of thousands of his droids. He then took his home into the Unknown Regions, seeking a safer haven far from galactic civilization.
During the Yuuzhan Vong War, Kligson's moon came under attack by the invaders' ally, the Red Knights of Life. The Yuuzhan Vong were rabidly opposed to existence of any droid, so the space station was an ideal target for their religious hatred. The Iron Knights, Shard Jedi in droid bodies, came to Kligson's aide, however, and managed to repel the Red Knights, saving the moon from destruction.
Personality
Edit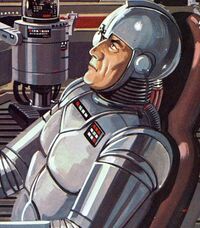 "But I have two rules in my world. First, that no human set foot on my planet. And second, anything I repair I keep."
―Kligson to Luke Skywalker
Kligson held a great love of his droids to the point that he was greatly saddened when many of them were destroyed in the battle on his station. He held a great deal of distrust towards organics to the point that he allowed no Human onboard his station. Furthermore, he could be enticed to help repair damaged droids but only because he wished to keep the droid he fixed. One noted aspect of his personality was that he enjoyed a challenge. He often told visitors that he had only these two rules.
Those droids that were brought onboard his station had their restraining bolt's removed and allowed to be "freed". Kligson typically believed that he was liberating those droids from their masters but was somewhat surprised when R2-D2 and C-3PO wished to return to their master stating that he had never seen such devotion before.
Kligson himself was an imposing figure. Being nearly entirely cybernetic, he required no food or water. He had enhanced his cybernetics, granting him great physical strength and stamina. He had also installed blasters in his hands.
Appearances
Edit