The Knights of Ren Origins
from Star Wars Explained
"Even you, master of the Knights of Ren, have never faced such a test."
―Supreme Leader Snoke, to Kylo Ren
The Knights of Ren was a group of dark side users that operated under the command of Snoke, the Supreme Leader of the First Order. Kylo Ren was a member of the organization.
Organization
Edit
The Knights of Ren included Kylo Ren,[3] whom Supreme Leader Snoke, the leader of these forces[1] of dark side users[2] referred to as a master of the Knights of Ren.[3] As a member of the Knights of Ren, Kylo was not part of the formal hierarchy of the First Order but nonetheless operated with freedom among the military command, who tolerated his presence with some hesitation as his agenda trumped their own.[1] Kylo wore a black and silver combat helmet based on the battle gear worn by the Knights of Ren.[5]
The Knights of Ren operated in the decades following the Galactic Civil War. They were under the command of Supreme Leader Snoke, who used them as a tool of the dark side of the Force alongside the First Order. Rey, a Force-sensitive scavenger who hailed from Jakku, saw the Knights of Ren in a vision.[1]
Appearances
Edit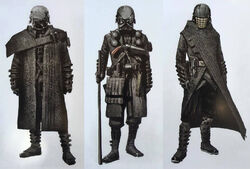 Non-canon appearances
Edit
Notes and references
Edit
Ad blocker interference detected!
Wikia is a free-to-use site that makes money from advertising. We have a modified experience for viewers using ad blockers

Wikia is not accessible if you've made further modifications. Remove the custom ad blocker rule(s) and the page will load as expected.