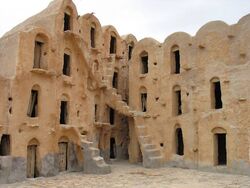 Ksar Ouled Soltane (Arabic: كصر أولد سلطان) is a fortified granary, or ksar, located in southern Tunisia. The ksar is spread out over two courtyards, each of which has a perimeter of multi-story vaulted granary cellars, or ghorfas. Like other ksour created by North African Berber communities, Ksar Ouled Soltane is located on a hilltop, to help protect it from raiding parties in previous centuries.
Ksar Ouled Soltane is now a tourist destination, with visitors coming to see its well-preserved granary vaults. It is one of three ksour around Tataouine to represent the Slave Quarters Row of Mos Espa in Star Wars: Episode I The Phantom Menace, where Anakin Skywalker lived as a boy.
source: Lonely Planet Tunisia, 3rd edition
External links
Edit
Ad blocker interference detected!
Wikia is a free-to-use site that makes money from advertising. We have a modified experience for viewers using ad blockers

Wikia is not accessible if you've made further modifications. Remove the custom ad blocker rule(s) and the page will load as expected.