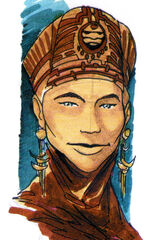 Kuat of Kuat was the hereditary title given to the head of House Kuat and Kuat Drive Yards. The Kuat of Kuat heir also took on the role of Technician in his management of Kuat Drive Yards. Kuat of Kuat resisted efforts from Emperor Palpatine and others to seize control of Kuat Drive Yards, enforcing the promise of generations of Kuat of Kuat that Kuat Drive Yards was eternal.
Known Kuats of Kuat
Edit
Appearances
Edit
Ad blocker interference detected!
Wikia is a free-to-use site that makes money from advertising. We have a modified experience for viewers using ad blockers

Wikia is not accessible if you've made further modifications. Remove the custom ad blocker rule(s) and the page will load as expected.