The Kybuck speeder bike was the standard speeder used by Imperial scout trooper corps. It was fast and durable, although it was larger and bulkier than most of the other speeder bikes used by the military.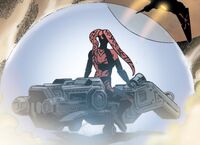 It had a thick layer of armor and powerful engines, which made the Kybuck a very durable vehicle. It was more comfortable than most bikes for a passenger. Darth Talon used a Kybuck speeder in 137 ABY to track down Marasiah Fel on Socorro.
Appearances
Edit
Notes and references
Edit
Ad blocker interference detected!
Wikia is a free-to-use site that makes money from advertising. We have a modified experience for viewers using ad blockers

Wikia is not accessible if you've made further modifications. Remove the custom ad blocker rule(s) and the page will load as expected.