Low Altitude Assault Transport/carrier
Talk

42
107,247pages on
this wiki
Low Altitude Assault Transport/carrier
Production information
Manufacturer
Product line
Model

Low Altitude Assault Transport/carrier repulsorlift gunship

Class
Cost

58,000 credits (42,000 used)[2]

Technical specifications
Length

17.4 meters

Maximum speed

620 km/h[2]

Armament
Complement

Varies, can carry one of the following:

Crew
Passengers

None[2]

Cargo capacity

40 tons[2]

Consumables

3 days[2]

Usage
Availability

Military[2]

Role(s)
Era(s)
Affiliation
The Low Altitude Assault Transport/carrier (LAAT/c) was a LAAT carrier gunship employed by the Grand Army of the Republic during the Clone Wars[1] and later by the Galactic Empire. These atmospheric transports were also referred to as AT-TE carriers, Republic Dropships or "Tank Lifters".
Characteristics
Edit
The Rothana Heavy Engineering LAAT/carrier variant was designed primarily to airlift assault walkers and other heavy cargo into battle. Similar in design to the LAAT/i version, the carrier gunship removed the infantry model's troop hold, and featured heavy-lift agrav drives that helped the heavy electro-magnets hold payloads such as AT-TEs in place under the main hull.
A wide wingspan allowed for maximum distribution of repulsorlift vanes when carrying heavy weights. Most of the LAAT/i's weapons were not present, leaving only the three anti-personnel laser turrets. Because of it's lack of weapons, a Gunners station was not needed, thus the LAAT/c was a one man vehicle.
A modified version of the LAAT/c had a troop deck that could hold up to 40 troops.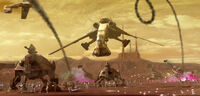 At the Battle of Geonosis, these carriers transported many AT-TE walkers onto the front lines. They were also used to deploy the Forward Command Center. [1] Some four hundred LAAT/c gunships were deployed during the battle, it is unknown how many were lost during the battle.
During the Battle of Teth, the 501st Legion used 2 LAAT/c gunships, one called "Wampa Runner" which had the painted head of a Wampa on it's nose, to insert 2 AT-TE walkers to scale the base of the B'omarr Monastery. [9]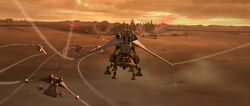 Many LAAT/cs were deployed for the second Geonosian Campaign to bring in the heavy equipment such as AT-TEs, However, many were lost in the first landing attempt, along with equipment they were carrying. Later, after the weapons factory was destroyed, LAAT/cs were used to move debris from the site of the explosion to look for the missing Ahsoka Tano and Barris Offee.
A number of LAAT/cs were used to transport the Zillo Beast after it was neutralized.
During the Clone Wars, carrier gunships were known to transport Forward Command Centers, Stun tanks, Saber-class fighter tanks, HAV A5 Juggernauts, RTT transports, AT-XT, AT-OT and AT-TE.[3]
In the Imperial Period, they often airlifted in PX-4 Mobile Command Bases.[4] By 13 ABY they were one of a number of Clone wars-era Galactic Republic vehicles being used by the Restored Empire faction of the Imperial Remnant.[8]
Appearances
Edit
Notes and references
Edit
External links
Edit