"The series creators expertly deliver an equal amount of comedy and signature Star Wars adventure into their storytelling. We're looking forward to bringing our viewers a brand new season of galactic adventures with the Freemaker family throughout summer."
―Marc Buhaj, senior vice president, Programming, and general manager, Disney XD
LEGO Star Wars: The Freemaker Adventures Season Two is the upcoming second season of the animated television series LEGO Star Wars: The Freemaker Adventures. The second season was announced on April 3, 2017, and it will debut on Disney XD in Summer 2017. More details about the season will be revealed at Celebration Orlando in April 2017.[1]
Official description
Edit
At the end of the first season, the Freemaker family found a new home with the rebel fleet. Their new circumstances bring them face to face with brutal Imperial forces, desperate Hutts, conniving Sith Lords, and the Emperor's latest plaything, M-OC, a terrifying hunter droid who continually modifies himself to fit any occasion. In response to these threats, Rowan's powers grow and strengthen until he has a vision of a sleek, invulnerable ship that can save the Rebellion and stop the Empire in its tracks — the Arrowhead. The catch is, the Arrowhead is a ship only Rowan can build. Once again, it's up to the youngest Freemaker to save the galaxy.[1]
Production
Edit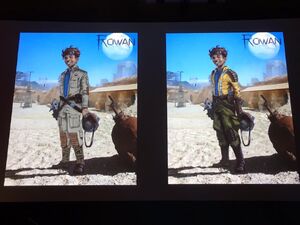 LEGO Star Wars: The Freemaker Adventures Season Two was created by Bill Motz and Bob Roth, who also served as executive producers. Michael Kramer served as the series' composer while Matthew Wood worked as the show's supervising sound editor and the voice of the B1 battle droid Roger. Lucasfilm designer Doug Chiang and his team redesigned the characters' costumes to allow a more natural transition into their LEGO forms. The protagonist Rowan's costume was also redesigned to resemble Luke Skywalker's fatigues from The Empire Strikes Back.[2]
The antagonistic hunter droid M-OC was voiced by James Urbaniak. He was also designed by Doug Chiang, who also designed M-OC's ship which resembled two daggers joined together. Creator Roth described M-OC's ship as an extension of M-OC. Rowan Freemaker's starship Arrowhead was also designed by Ryan Church, who had worked as a concept artist on the Prequel trilogy. Roth confirmed that the ship was powered by a giant kyber crystal and would play an important role in the plot of Season Two.[2]
Marketing and release
Edit
On April 3, 2017, it was announced on StarWars.com that LEGO Star Wars: The Freemaker Adventures would be renewed for a second season. The press release also mentioned that five new animated shorts would be released on May 4, 2017 to fill the gap between the first and second seasons and that a sneak preview of the season would be released at Celebration Orlando in mid-April 2017. The second season will premiere on Disney XD in the summer of 2017. The announcement was accompanied by a YouTube trailer and five preview images depicting the Freemakers, the hunter droid M-OC, the starship Arrowhead, and several members of the Rebel Alliance including Quarrie, Crix Madine, Admiral Ackbar, Mon Mothma, and Hera Syndulla.[1]
To promote Season Two, executive producers Bill Motz and Bob Roth, Lucasfilm Story Group member Leland Chee, composer Michael Kramer, supervising sound director and cast member Matthew Wood, and host Amy Ratcliffe hosted a panel at Celebration Orlando on April 16, 2017. During the panel, Roth confirmed that Season Two would focus on the Freemakers' involvement in the Rebel Alliance. Key plot threads would be Kordi Freemaker's aspirations of becoming a rebel heroine, Zander becoming a hotshot pilot, and Rowan discovering and fulfilling his purpose. Roth also confirmed that Princess Leia Organa and the Star Wars Rebels character Hera Syndulla would appear as supporting characters.[2]
During the Celebration Orlando panel, Motz and Roth also displayed two LEGO models of MOC and Rowan's new ship Arrowhead. As a bonus for audience members, the season premiere was also screened.[2] On June 7, cast member Eugene Byrd was interviewed by Anthony Carboni on The Star Wars Show. Bryd confirmed that Rowan Freemaker was a Force Builder and also showed Doug Chiang's drawings of Zander, Kordi, and Rowan. Producers Motz and Roth also appeared on the show to publicize LEGO sets. In addition, Carboni and Andi Gutierrez confirmed that the first episode "Trouble on Tibalt" would air on June 17. The series would then resume on July 31 with new episodes running Monday through Thursday until August 16.[3]
Episode
Image
Title
Original Airdate
Prod. #
01
"A New Home"
June 17, 2017
201
New to Home One, the Freemakers embark on a series of misadventures to assist and maybe even impress the rebel fleet.[10] This episode is a collection of the five short video clips.[4]
02
"Trouble on Tibalt"
June 17, 2017
202
While scavenging for the Rebellion, the Freemakers meet the Empire's newest threat, M-OC.[11][3]
03
"The Tower of Aliston Nor"[12]
July 31, 2017
203
Looking for inspiration, Rowan journeys to Aliston Nor where he finds an abandoned city of Jedi and M-OC.[12]
04
"The Embersteel Blade"[13]
August 1, 2017
204
In an attempt to attain parts for the Arrowhead, Kordi goes undercover at a swanky Imperial auction.[13]
05
"The Storms of Taul"[14]
August 2, 2017
205
The Freemakers cross paths again with Hondo and wind up trapped on Taul with M-OC.[14]
06
"Return to the Wheel"[15]
August 3, 2017
206
The Freemakers return to the Wheel to retrieve a special part, but all they find are Graballa the Hutt and his team of bounty hunters.[15]
07
"The Lost Crystals of Qalydon"[16]
August 7, 2017
207
The Freemakers help a village of Lurmen regain their stolen Kyber crystals from the Empire.[16]
08
"The Pit and the Pinnacle"[17]
August 8, 2017
208
Using his unique powers, Rowan leads the Freemakers to a planet rich in Kyber crystals and danger.[17]
09
"Flight of the Arrowhead"[18]
August 9, 2017
209
The Freemakers have all the parts they need to complete the Arrowhead, but they need to build the ship in time to save the Rebel Fleet.[18]
10
"A Perilous Rescue"[19]
August 10, 2017
210
Yearning for adventure and excitement, Rowan launches himself on a solo mission that brings him face-to-face with M-OC.[19]
11
"Escape from Coruscant"[20]
August 14, 2017
211
Against orders, Kordi and Zander take the Arrowhead to Coruscant in a desperate bid to save their brother.[20]
12
"Free Fall"[21]
August 15, 2017
212
Rowan battles M-OC in the upper atmosphere of Shantipole.[21]
13
"Return of the Return of the Jedi"[22]
August 16, 2017
213
The Freemakers wind up in the middle of the Battle of Endor where Rowan has his final confrontation with M-OC.[22]
Bibliography
Edit
Notes and references
Edit
↑ 1.0 1.1 1.2 1.3 1.4 1.5  LEGO Star Wars: The Freemakers Adventures Season 2 coming This Summer on StarWars.com (backup link)
↑ 2.00 2.01 2.02 2.03 2.04 2.05 2.06 2.07 2.08 2.09 2.10 2.11 2.12  SWCO 2017: 5 Things we learned from the LEGO Star Wars: The Freemaker Adventures Panel on StarWars.com (backup link)
↑ 3.0 3.1 3.2 3.3 The Last Jedi Cast Talks Teaser & The Freemaker Adventures S2 Preview! on the official Star Wars YouTube Channel
Ad blocker interference detected!
Wikia is a free-to-use site that makes money from advertising. We have a modified experience for viewers using ad blockers

Wikia is not accessible if you've made further modifications. Remove the custom ad blocker rule(s) and the page will load as expected.