"Weesa going for a swim, okie-day?"
―Jar Jar Binks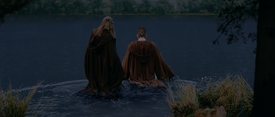 Lake Paonga was a lake on the edge of Lianorm Swamp on Naboo,[1] lying east of Otoh Sancture,[2] that served as the entrance to the Gungan city of Otoh Gunga.[1]
The lake was known to be rich in gooberfish.[1] The Paonga Strait connected Otoh Gunga to the Gungan Sacred Place at the foot of the Gallo Mountains.
Appearances
Edit
Notes and references
Edit
Ad blocker interference detected!
Wikia is a free-to-use site that makes money from advertising. We have a modified experience for viewers using ad blockers

Wikia is not accessible if you've made further modifications. Remove the custom ad blocker rule(s) and the page will load as expected.