"Lancet standing by."
―Anonymous Lancet pilot
The Lancet Aerial Artillery was an Imperial air vehicle derived from both the TIE Series and the Lambda-class shuttle family.
Characteristics
Edit
"Blast them out!"
―Anonymous Lancet pilot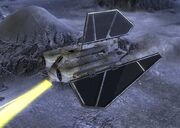 Blending the dual cylindrical pods of the TIE/sa bomber with the flat-bodied tri-wing configuration of the Lambda-class shuttle, Lancets were armed with a powerful proton beam cannon centrally mounted on the fore of the fuselage and angled optimally for air-to-ground attacks. However, the solar array used for TIE's was incorporated into the tri-wing form. They also had 2 anti-air systems to defend themselves.
Like their spacefaring relatives, their lack of combat shields made them vulnerable to anti-aircraft laser and mass-driver cannons.
The Lancet was capable of causing tremendous damage to land-based targets. However, its weapons were found to be less effective against mobile targets.
Behind the scenes
Edit
The game data file MODELS.MEG refers to the Lancet as the "TIE Lancet," but this is not the craft's in-game label.
Appearances
Edit
Notes and references
Edit
Ad blocker interference detected!
Wikia is a free-to-use site that makes money from advertising. We have a modified experience for viewers using ad blockers

Wikia is not accessible if you've made further modifications. Remove the custom ad blocker rule(s) and the page will load as expected.