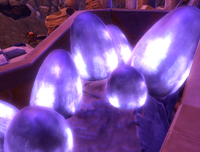 Lanthanide was a metallic substance used in armor plating. It could be made into an alloy with duralium. It was used in the exterior shell armor of the Emperor Palpatine Surgical Reconstruction Center and in Palpatine's Chair of Office.
Appearances
Edit
Ad blocker interference detected!
Wikia is a free-to-use site that makes money from advertising. We have a modified experience for viewers using ad blockers

Wikia is not accessible if you've made further modifications. Remove the custom ad blocker rule(s) and the page will load as expected.