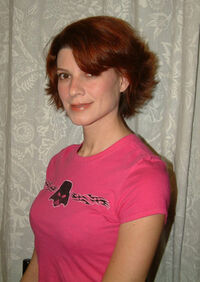 Leah Mangue is an illustrator and an officially approved Lucasfilm artist.
In May of 2007 she became an officially licensed Lucasfilm artist with her inclusion as a sketch card artist for Topps Star Wars 30th Anniversary (2006) collectors card set. She has since worked on Topps collectors card sets including: Star Wars The Empire Strikes Back 30th Anniversary (2007), Indiana Jones Heritage (2008), Clone Wars I (2008), Star Wars Galaxies (IV, V, VI, VII 2008-2011), Indiana Jones and the Kingdom of the Crystal Skull (2008), Clone Wars II (2009), Indiana Jones Masterpieces (2009), and Star Wars Galactic Files (2012.)
She has also worked as a licensed artist for Topps Lord of the Rings Masterpieces I & II and Topps Heroes I & II card sets as well as sketch cards for Breygent Marketings' Wizard of Oz, Sci-Fi Movie Poster series, Movie Star Poster series and Marilyn Monroe card sets as well as Strictly Ink's Art of Harryhausen, Hammer Horror, Doctor Who (films), CSI: Miami, CSI: NY and Celebrity Sketchers card sets, and more recently on Perna Studios collectors card sets Classic Fairy Tales and Halloween.
Was chosen as an artist for Star Wars Celebration V with her print Have Rifle Will Travel.
Was a featured fan in the 5HeadsTall Productions (Sky Wilson and Vin Kelly) documentary George and Me about how much of a positive "force" Star Wars has been on fans' lives since its release in 1977. showing that the traditional stereotype of the "geeky" fan has little value in today's world.
External links
Edit