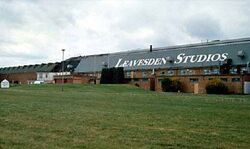 Leavesden Studios is situated near Watford in England. It was used as the primary filming location of Star Wars: Episode I The Phantom Menace. Starting production design in August 1996 with principal photography starting on June 26 1997 and lasting for four weeks. In all, the studio was used by the production for two and a half years.
External links
Edit
Ad blocker interference detected!
Wikia is a free-to-use site that makes money from advertising. We have a modified experience for viewers using ad blockers

Wikia is not accessible if you've made further modifications. Remove the custom ad blocker rule(s) and the page will load as expected.