Lekku
125,477pages on
this wiki
Talk

0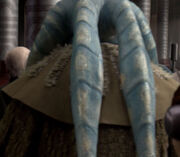 Lekku, singular lek, were the tails seen protruding from the head of both Twi'lek and Togruta.
They protruded down the back of the skull. A Twi'lek's headtails served many purposes in their daily lives and culture, storing fat and other qualities. The Twi'lek's native language was spoken using a combination of words and subtle movements of the lekku.[1]
Togrutas also sported head-tails. This species, however, had three head tails, the two at the side of the head and one from the lower-back of the skull.
Appearances
Edit
Notes and references
Edit