Level 1313, one thousand three hundred thirteen levels from Coruscant's core, was accessed by the underworld portal.[1]
Behind the scenes
Edit
Level 1313 was originally announced to be the setting of the third person shooter Star Wars: 1313 video game.[2] Following the shutdown of LucasArts in 2013, the game was cancelled,[3] also revealing it would have starred Boba Fett.[4] The level first appeared in the Star Wars universe in The Clone Wars' second season episode, "Lethal Trackdown" and fifth season episode, "To Catch a Jedi".
At some point during the existence of the Galactic Empire, Level 1313 was the site of a ruthless criminal underground network[5] which was investigated by Boba Fett.[4]
Appearances
Edit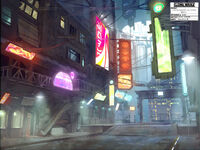 Notes and references
Edit
Ad blocker interference detected!
Wikia is a free-to-use site that makes money from advertising. We have a modified experience for viewers using ad blockers

Wikia is not accessible if you've made further modifications. Remove the custom ad blocker rule(s) and the page will load as expected.