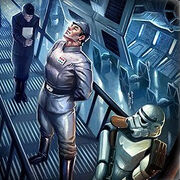 Lieutenant Commander was a military rank used by several navies and starfighter corps. It ranked between Lieutenant and Commander (or in the case of some starfighter corps, between Captain and Commander[1]). Given that a Naval Lieutenant (as a rule) equated to an Army Captain, a Lieutenant Commander equated roughly to a Major.
In the Rebel Alliance's starfighter corps., the rank of Lieutenant Commander was adopted post-Battle of Hoth, and was ranked between Captain and Commander.[1] Its insignia was a gold-trim patch on the left shoulder blade with two large red dots, one for each of the top corners, and one small red dot on the bottommost center,[1] a similar design for the design for the rank of Captain pre-Battle of Hoth.[2]
List of lieutenant commanders
Edit
Alliance to Restore the Republic
Edit
Appearances
Edit
Notes and references
Edit
External links
Edit
Ad blocker interference detected!
Wikia is a free-to-use site that makes money from advertising. We have a modified experience for viewers using ad blockers

Wikia is not accessible if you've made further modifications. Remove the custom ad blocker rule(s) and the page will load as expected.