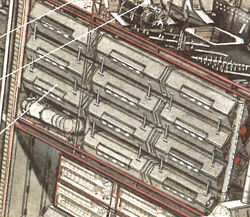 A life-support module was a temporary habitat used by construction workers onboard the Death Star I.
Description
Edit
Each module was clustered together with others to provide larger living spaces for the air-breathing workers.
The modules served as dwelling places for the workers during the construction phase of the battlestation. After the station's completion, the modules were stored inside its immence superstructure to serve as habitats in case of an emergency.