127,156pages on
this wiki
Talk

19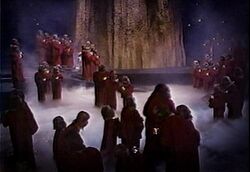 "This holiday is yours, but we all share with you the hope that this day brings us closer to freedom, and to harmony, and to peace. No matter how different we appear, we're all the same in our struggle against the powers of evil and darkness. I hope that this day will always be a day of joy in which we can reconfirm our dedication and our courage. And more than anything else, our love for one another. This is the promise of the Tree of Life."
Life Day was a Wookiee holiday celebrated by the inhabitants of Kashyyyk every three years. It was a celebration of the planet's diverse ecosystem and the many forms of life it encompassed. It also was a time to remember family members who had died, and the young ones who continued to bring new life to a family. Life Day was a sacred holiday, and many Wookiees considered it their duty to return to Kashyyyk in order to celebrate it. Life Day was held once every three local years for many generations, but during the Galactic Civil War, its importance to the Wookiees became more pronounced. Wookiees were spread across the galaxy, either because they had been enslaved by the Galactic Empire or for personal reasons, and they began celebrating Life Day each year as a way to remain in touch with their history. Over time, the holiday found its way into various other cultures.
Customs
Though it is not clear if some Life Day traditions were originally created by the Wookiees themselves or expanded upon by citizens of the greater galaxy, by 1 ABY the celebration of Life Day had become fairly consistent in major population centers like Theed on Naboo, Coronet on Corellia, and even Kachirho on Kashyyyk.[1]
Activities for Life Day included trimming a tree, launching fireworks, consuming treats like Wookiee-ookiees and Hoth chocolate, and listening to festive music.[1]
Throughout 1 ABY the Alliance to Restore the Republic had embraced Life Day as an opportunity for anti-Imperial propaganda. Spacers affiliated with the Alliance would decorate large numbers of trees throughout cities across the galaxy. The Empire, through nominally independent intermediaries, recruited loyal citizens to destroy presents placed around the very same cities, believing the gifts to be contraband smuggled by the Alliance. The competition between Imperial and Rebel-aligned spacers would sometimes escalate to acts of public violence, but residents of the three main target cities of Dearic, Wayfar, and Doaba Guerfel seemed completely unfazed by these events.[2]
Music
Traditional Life Day songs included:
In 1 ABY, these were performed in several locations by Figrin D'an and the Modal Nodes on Life Day.[1][2]
Behind the scenes
Wookiee Life Day made its first appearance in the 1978 television film The Star Wars Holiday Special. In the special, Chewbacca's wife Mallatobuck prepares a feast of Bantha rump, gifts are exchanged between acquaintances, candles are burned ritualistically, and Wookiees don red robes and join into groups to observe the day. Singing is also involved.
In The Holiday Special, the Wookiees of Chewbacca's family depart their Kashyyyk home, walk across a galaxy of stars, and arrive at the Great Temple (note that, although the location is never specified, Leia, C-3PO, and R2-D2 have remained on Yavin IV throughout the special). This scene should likely be interpreted as abstract or non-canonical. Alternately, if the scene is a literal, factual occurrence, it is possible that either (a.) technology kin to Hypergates or Infinity Gates are being employed, (b.) the Life Day candles are foci of some bizarre and as-yet uncatalogued Force phenomenon, or (c.) the candles contain hallucinogenic drugs the burning of which cause Wookiees to imagine themselves transported across the galaxy. The first explanation is unlikely, since such devices would almost certainly be reserved for military applications before holiday celebrations (on the other hand, Magwit's mystifying hoop certainly hasn't fallen into military hands); secondly, the occupation of Kashyyyk would have entailed the destruction of all local Force artifacts per general Imperial policy (but not guaranteed it, as the Wookiees could easily have hidden them). The last explanation seems more plausible, as it explains both the seeming teleportation and Princess Leia's singing. In addition, religio-pharmacological application of natural hallucinogens is common in primitive cultures, though primitive is hardly an apt description of Wookiee society.
In the 1979 Russ Manning newspaper comic strip The Kashyyyk Depths, the regular cast of A New Hope once again returned to Kashyyyk for another Life Day celebration.
In the video game Star Wars Galaxies, players are given the opportunity to explore the Wookiee holiday. Its customs are more thoroughly explored, and the player is encouraged to celebrate the holiday around the Human month of December. The creators of the game first officially recognized the holiday as an in-game holiday in December 2003. The official site for Star Wars Galaxies devotes an entire page to explaining this unique feature of the game. Gifts are given to players, one to keep, and another to give to a friend. In preparation for the game's 2008 Life Day celebrations, some of the developers watched The Star Wars Holiday Special in its entirety, as much of the Life Day content is directly inspired by the special.[4]
The term was mentioned again in Starfighters of Adumar by Wedge Antilles. In that context, it was not capitalized, and the term seemed to be implied as a "Star Wars-ism" for birthday. It is also used in this capacity in Galaxy of Fear: The Doomsday Ship. (See: Bobringi Mafusa.)
Earthly analogue
Note that Life Day most likely was originally intended as a stand-in for the American holiday of Thanksgiving, as The Holiday Special was originally aired on November 17, the day after Thanksgiving that year. However, over time the term "holiday special" has caused most fans to misinterpret Life Day as a stand-in for Christmas instead, leading to games like Star Wars Galaxies and Star Wars Battlefront: Renegade Squadron to place Life Day on December 25. This is partly because after the initial U.S. airing in November, The Holiday Special aired in December in other countries, where Thanksgiving is not observed and Christmas is the closest equivalent.
The confusion has reached the point where George Lucas himself has referred to The Star Wars Holiday Special as the "Christmas special", and many who have not seen the special incorrectly remember Life Day as having Star Wars versions of Christmas carols (conflating The Holiday Special with Christmas in the Stars), Christmas decorations, and so on. Such elements have, in fact, been introduced after the special, mostly by Star Wars Galaxies, with wroshyr trees decorated to resemble Christmas trees, and the Max Rebo Band playing tunes to Christmas carols. (Perhaps in response to this, stomptokyo.com created a false rumor about a sequel to The Holiday Special specifically designed to be a Christmas special, taking place on the snowy planet Hoth with Darth Tyranus dressed as Santa Claus.)
The canonical date for the observance of Life Day has, nevertheless, been established in what sources there are as December 25, or the equivalent thereof in the Wookiee calendar. Whether this means that Life Day actually is intended to be understood as a solstice festival akin to Christmas as opposed to a harvest festival akin to Thanksgiving is unknown. Neither concept seems to hold much relevance on Kashyyyk, which appears to have temperate weather throughout the year (including on the Life Day we see in The Holiday Special) and where agriculture seems to be little practiced.
Pop culture references
In issue #121 of ToyFare magazine, the "Twisted Toyfare Theater" section is devoted exclusively to The Star Wars Holiday Special, with Lumpy questioning Chewbacca about Life Day, and Chewbacca responding that he should look it up on Wookieepedia.[5]
The ending of the song "Merry Christmas From Cell Block 2" by Matthew Ebel has his robot companion Proto wishing him a "Happy Life Day." This discrepancy was noticed by Ebel and was quickly corrected to "Merry Christmas."
Appearances
Sources
Notes and references
External links