Light Assault Vehicle/repulsorlift QH-7 Chariot
Talk

18
103,603pages on
this wiki
LAVr QH-7 Chariot
Production information
Manufacturer
Model

Light Assault Vehicle/repulsorlift QH-7 Chariot

Class
Cost

40,000[1]

Technical specifications
Length
Maximum speed

350 km/h[1]

Maximum altitude

8 meters[2]

Engine unit(s)

Repulsorlifts (5)[2]

Armament

Laser cannon (1)[2]

Crew
Passengers

Command staff[2]

Cargo capacity

200 kg[1]

Consumables

3 days[1]

Usage
Role(s)

Mobile command post
Combat support
Reconnaissance

Era(s)
Affiliation
The Light Assault Vehicle/repulsorlift (LAVr) QH-7 Chariot was a command speeder issued to most Imperial ground forces. It was designed to allow a commander to enter battlefield with moderate protection, but was also frequently tasked with evacuating a commander from a hot zone. It was also often used by Imperial generals to move to the front lines, pick up a field commander, receive face-to-face briefing, and then ferry the general back to the safety of a mobile command base.
Characteristics
Edit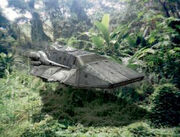 It had a flight-ceiling of 8 meters, making it capable of traversing difficult terrain. In addition to a forward laser cannon, it also had extensive armor for added protection of its passengers, which mostly consisted of command staff. In battle, surrounding vehicles were expected to defend against attacking enemy troops.
Able to keep up with advancing walkers and other repulsor-craft, the Chariot was designed for rear-echelon duty, serving as a mobile command-center filled with tactical computers and holoscreens. The commander in charge could coordinate up to a dozen combat units, while simultaneously transmitting to the Central Military Command. A Chariot's staff consisted of a commander, a driver, a gunner, and at least four communication droids.
Most of the speeder's rear contained electronic countermeasures, which provided some protection against EM bursts and other disruptive tactics. Its communications array was equipped with signal-scramblers, which made any outgoing messages nearly impossible to decipher.
Later, the Empire replaced the laser cannon with a Swivel gun.
Behind the scenes
Edit
The Chariots are considerably different in the Thrawn Trilogy comic adaptation.
Appearances
Edit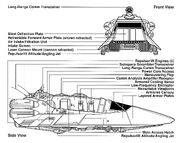 Notes and references
Edit