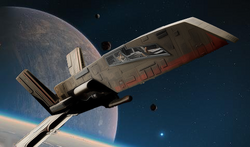 "Garvan's knees—there's more kinds a light freighters limpin' around than you've got hairs—uh, scales…Heck, ever'body who owns one of the blasted t'ings messes wit' it in some way. Vair's eyelids—none of 'em are 'stock' anymore."
Light freighters were spacecraft used for small freight operations. They were popular choices for small shipping firms, independent haulers and smugglers for their low cost, ease of customization and a ubiquitous nature that helped avoid unwanted attention.
These craft were usually upgradeable, a glistening (or maybe a not-so-glistening) example being the Millennium Falcon, which was capable of moving four times as fast in hyperspace as a stock YT-1300.
Although light freighters were usually in private hands, the Azzameen family used a few YT-series transports for their shipping operations. Most large shipping concerns used larger bulk freighters and container ships for their transportation needs.
Appearances
Edit
Ad blocker interference detected!
Wikia is a free-to-use site that makes money from advertising. We have a modified experience for viewers using ad blockers

Wikia is not accessible if you've made further modifications. Remove the custom ad blocker rule(s) and the page will load as expected.