Light repeating blaster
Talk

3
110,088pages on
this wiki
Light repeating blaster
Production information
Type
Cost

1200[1]

Physical and technical specifications
Shape
Size

Two-handed weapon[1]

Weight

6 kg[1]

Capacity
Range
Usage and history
Era(s)
Affiliation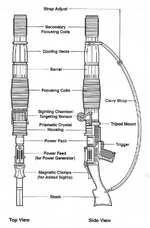 The light repeating blaster or light repeating blaster rifle was a lighter version of a regular repeating blaster. This weapon was legally restricted to military use in most instances.
One of the most widespread light repeating blasters was the T-21 model used by Imperial stormtroopers. Other models were used by heavily-armed infantry troopers in various armies, including the Royal Naboo Security Forces.
A typical power capacity for a light repeating blaster was 300 blasts. Light repeating blasters were more powerful than typical blasters, but the high rate of fire meant that it was easy for the user to waste its blasts. A power generator could be connected to this weapon for longer use.
Appearances
Edit
Notes and References
Edit