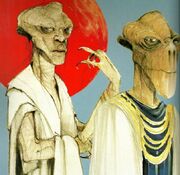 The Lingsnots were an Adnerem family who wrote a family news letter during the holiday season to their friends. They were very wealthy, believed in the Gaseous Cloud deity and had three children, Ussto, Miiliki-spoorr and Ciption whose activities during the past year the letter detailed. Po Ruddle Lingsnot was a member of this family.
Appearances
Edit
Ad blocker interference detected!
Wikia is a free-to-use site that makes money from advertising. We have a modified experience for viewers using ad blockers

Wikia is not accessible if you've made further modifications. Remove the custom ad blocker rule(s) and the page will load as expected.