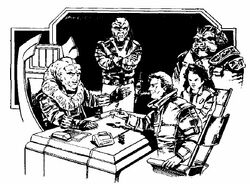 Loan sharks were individuals who loaned money to other beings at very high interest rates and with very short payback periods. It was not uncommon for loan sharks to back up their demands for repayment with violence, hence their name.
Appearances
Edit
External links
Edit
Ad blocker interference detected!
Wikia is a free-to-use site that makes money from advertising. We have a modified experience for viewers using ad blockers

Wikia is not accessible if you've made further modifications. Remove the custom ad blocker rule(s) and the page will load as expected.