"My knowledge is your weapon."
―Loku Kanoloa
Loku Kanoloa was a male Mon Calamari marksman that was aligned with the Alliance to Restore the Republic.
Biography
Edit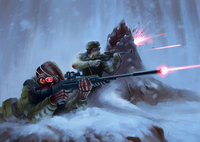 "Sometimes study isn't enough, and you're force to learn on the fly."
―Loku Kanoloa
Prior to joining the Rebel Alliance, Loku Kanoloa was a member of the Mon Cala Special Forces, with whom he performed several missions. After joining the Rebellion, he put his skills as a sniper to good use. At one point, with very little lead time, he executed a mission to rescue several of his fellow Rebels from Imperial custody.[2] Shortly after the Battle of Hoth forced them to evacuate, Kanoloa aided the medical droid MHD-19 and the Human female operative Verena Talos in returning to Hoth to evacuate some colonists from the Empire's grasp.[1]
Personality and traits
Edit
"We all use the same battlefield. Some use it better."
―Loku Kanoloa
Loku Kanoloa was a very skilled and deadly marksman, and occasionally supported allies with sniping skills and a coordinated strike.[1]
Behind the scenes
Edit
Loku Kanoloa is one of three hero characters in the Return to Hoth expansion pack for the tactical land-based RPG game Star Wars: Imperial Assault by Fantasy Flight Games.
Notes and references
Edit
↑ 2.0 2.1  Star Wars: Imperial Assault – Return to Hoth (Card: Constant Vigilance) Link
External links
Edit
Ad blocker interference detected!
Wikia is a free-to-use site that makes money from advertising. We have a modified experience for viewers using ad blockers

Wikia is not accessible if you've made further modifications. Remove the custom ad blocker rule(s) and the page will load as expected.