127,129pages on
this wiki
Talk

15
Template:OOU company infobox
LucasArts, formerly LucasArts Entertainment Company and, before that, Lucasfilm Games, is a video game developer and publisher and part of the Lucas finance.
During their earliest years, they became famous mostly for adventure games, such as the Monkey Island series.
LucasArts broke into the Star Wars realm in 1993 with Star Wars: X-wing. After this success, the company continued producing games based on the Star Wars universe.
Their games spread throughout the past decade to encompass almost every game genre. These include role-playing games (RPG), such as the Star Wars: Knights of the Old Republic franchise, real-time strategy games (RTS), such as Star Wars: Empire at War and its expansion pack, first- and third-person shooters (FPS), such as the Jedi Knight series, and a continued run of flight simulators, both the X-wing series as well as the Rogue Squadron series.
LucasArts has kept interests in non-Star Wars titles as well. It released sequels to its critically acclaimed Monkey Island series, and also created other franchises to continue with.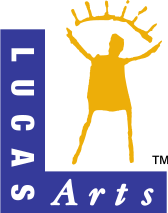 Recently, LucasArts re-released an assortment of games as downloads on Steam, Valve's game distribution service. While six of the ten games in the first wave were related to Star Wars or Indiana Jones, classic adventure games such as The Dig and Loom were also included. More are expected to follow.[1]
Key people
External links
Notes and references
↑  LucasArts Revives Classic Gaming Titles on StarWars.com (content now obsolete; backup link on Archive.org)