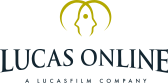 Lucas Online is a division of Lucasfilm responsible for online content and e-commerce related to Lucasfilm work.
Founded in 1997, Lucas Online was an early adopter of web technologies like video streaming, web documentaries, and interactive content development.
The staff of Lucas Online have previously been responsible for maintaining StarWars.com and other Lucasfilm websites.
External links
Edit
Ad blocker interference detected!
Wikia is a free-to-use site that makes money from advertising. We have a modified experience for viewers using ad blockers

Wikia is not accessible if you've made further modifications. Remove the custom ad blocker rule(s) and the page will load as expected.