Lucasfilm Story Group
125,384pages on
this wiki
Talk

6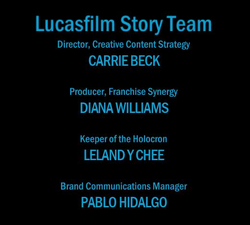 The Lucasfilm Story Group is a division of Lucasfilm Ltd. founded in 2013[1] that will determine all Star Wars canon. The group, which includes Keeper of the Holocron Leland Chee and Star Wars author Pablo Hidalgo, aims to abolish the current canon hierarchy system and create a single cohesive continuity.[2] The group began as an initiative from Kathleen Kennedy.[1] Lucasfilm Story Group—including Carrie Beck, Diana Williams, Leland Chee and Pablo Hidalgo—participated in the making of Star Wars: The Old Republic: Galactic Starfighter, a digital expansion to the video game Star Wars: The Old Republic, being mentioned in the ending credits.
Regarding the Story Group, author Jason Fry stated that one of the biggest misconceptions is that it is somehow omniscient and should somehow be perfect, but in fact that "of course there are going to be inconsistencies and slips here and there."[3]
Bibliography
Edit
Notes and references
Edit
↑ @HolocronKeeper (Leland Chee) on Twitter (screenshot)
↑ Cooper, Mike (November 17, 2014). Jason Fry Keeps Talking To Us: Wired For The Classics. Eleven-ThirtyEight. Retrieved on June 9, 2015.