These chambers were located in a building in Iridonia's capital city.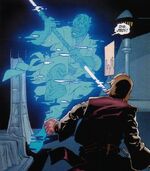 The chambers consisted of several rooms with big, open windows facing the Capital Square. It had a bed, at least one sofa and a workbench. The chamber walls were carved with ornate patterns.
Luke Skywalker once stayed in this apartment while visiting Iridonia as a New Republic ambassador. Here, he was attacked by a solid-state hologram of the late Sith Lord Darth Maul, but survived.
Appearances
Edit
Ad blocker interference detected!
Wikia is a free-to-use site that makes money from advertising. We have a modified experience for viewers using ad blockers

Wikia is not accessible if you've made further modifications. Remove the custom ad blocker rule(s) and the page will load as expected.