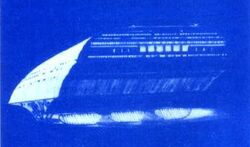 M-class was a category of starship defined in the Interstellar Starshipwright's Guild Book of Specifications and Classifications. The designation was commonly assigned to passenger and luxury liners, as well as military grade pocket cruisers.[1]
Among ships known to have been designated as M-class were Lady of Mindor,[2] a 310-meter, 600-passenger Lady-class ship from Shobquix Yards,[3] and also the 500-meter-long Mon Calamari vessel Kuari Princess, which carried 3,500 tourists.[4]
Behind the scenes
Edit
The M-class designation is first used to describe the Lady of Mindor in Han Solo's Revenge. The Kuari Princess was described as an 'M-class luxury liner' in Star Wars: The Roleplaying Game.
Appearances
Edit
Notes and references
Edit
Ad blocker interference detected!
Wikia is a free-to-use site that makes money from advertising. We have a modified experience for viewers using ad blockers

Wikia is not accessible if you've made further modifications. Remove the custom ad blocker rule(s) and the page will load as expected.