The M12-L Kimogila heavy fighter was the heaviest in MandalMotors line of snubfighters. The M12 was used by the Hutt crime organizations to protect their 'interests' and were often crewed by mercenary pilots.
Characteristics
Edit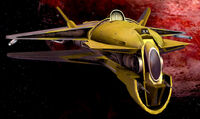 This custom Hutt starfighter was long ranged and could serve multiple roles in space combat. Its numerous gun emplacements classified the ship as a heavy fighter, and its torpedo capabilities allowed it to function as a bomber in special circumstances. This flexibility made it quite popular among free mercenaries. Though it lacked the speed and maneuvering capabilities of its predecessors, its ability to cause wanton slaughter could outweigh these factors.
Officially an upgrade of G1-M4-C Dunelizard fighter, the Kimogila fighter was much more robust and heavier. It was designed by MandalMotors specifically for sale for corporations, criminal fleets, and private organizations.[1]
Appearances
Edit
Notes and references
Edit
External links
Edit
Ad blocker interference detected!
Wikia is a free-to-use site that makes money from advertising. We have a modified experience for viewers using ad blockers

Wikia is not accessible if you've made further modifications. Remove the custom ad blocker rule(s) and the page will load as expected.