The largest of MandalMotors line of space combat vessels, the M22-T Krayt Gunship, true to its namesake the krayt dragon, was a behemoth on the battlefield.
Characteristics
Edit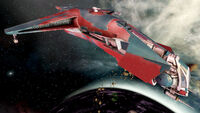 Although it had a small crew of only two, a pilot and a gunner, it could still lay down an impressive amount of firepower. Obviously slower than its counterparts, such as the Scyk and Dunelizard, it was nonetheless well-received, like most MandalMotors designs. Several of its cover panels had no purpose besides pure aesthetics.
M-22T was originally commissioned by Jabba Desilijic Tiure as a command ship for his lieutenants. MandalMotors produced many more such gunships as a special order for valued clients. It was so heavily armed and armored, that it attracted attention of the Galactic Empire.[1]
Behind the scenes
Edit
The M22-T Krayt gunship appeared in the video game Star Wars Galaxies, a massively multiplayer online-role playing game developed by Sony and published by LucasArts, prior to its closure on December 15, 2011.
Appearances
Edit
Notes and references
Edit
External links
Edit
Ad blocker interference detected!
Wikia is a free-to-use site that makes money from advertising. We have a modified experience for viewers using ad blockers

Wikia is not accessible if you've made further modifications. Remove the custom ad blocker rule(s) and the page will load as expected.