MAD about Star Wars: Thirty Years of Classic Parodies
Talk

0
Share
Ad blocker interference detected!
Wikia is a free-to-use site that makes money from advertising. We have a modified experience for viewers using ad blockers

Wikia is not accessible if you've made further modifications. Remove the custom ad blocker rule(s) and the page will load as expected.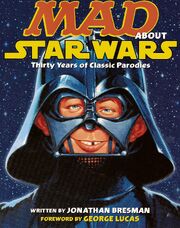 MAD about Star Wars: Thirty Years of Classic Parodies is a collection of MAD Magazine comic book spoofs on Star Wars which was published in 2007 by Del Rey Books. The comic panels are accompanied by comments and anecdotes relating to various aspects of Star Wars production and MAD's history with Star Wars. It also contains an introduction by Jonathan Bresman and a foreword by George Lucas himself, in which he admits to being a MAD fan. Moreover, the comic panels are accompanied by humorous non-Star Wars jokes, so-called marginals, by Sergio Aragones which as a MAD Magazine tradition. All Star Wars-related covers are also included in this volume as are all Star Wars related fold-ins.
Preliminaries
Edit
Foreword by George Lucas
Introduction by Jonathan Bresnan
Disclaimer to Preempt Fan Nitpicking
Comics, spoofs and other material
Edit
Star Roars, MAD #196, January 1978
MAD mocks Star Wars merchandise
A MAD look at Star Wars , MAD #197, March 1978
The Force and I: The MAD Star Wars Musical, MAD #203, December 1978
Star Bores: The Empire Strikes Out, MAD #220, January 1981
George Lucas's Letter to MAD in Admiration of Star Bores: The Empire Strikes Out, November 25, 1980
The Star Wars Log, MAD #230, April 1982
One Fine Day in a Galaxy, Far, Far Away, MAD Star Wars Spectacular, 1996
Star Bores: Re-hash of the Jeti, MAD #242, October 1983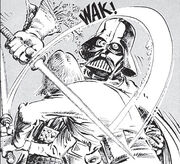 Don Martin's Return of the Jedi Out-takes, MAD #243, December 1983
Star Wars Playsets You May Have Missed, MAD #354, February 1997
One Day on the Snowy Plains of Hoth (back cover), MAD #354, February 1997
Updating Star Wars for the Future, MAD #354, February 1997
Star Wars Macarena, MAD #354, February 1997
A MAD Peek Behind the Scenes at the Making of the Star Wars Trilogy, MAD Star Wars spectacular, 1996
Thank-you Note from George Lucas, February 11, 1997
Star Wars, MAD #377, January 1999
Countdown to... Star Wars: Episode I The Phantom Menace, MAD #383, July 1999
MAD's Celebrity Cause-of-Death Betting Odds: George Lucas, MAD #383, July 1999
Forcefully Palm, MAD #400, December 2000
Star Bores: Epic Load I The Fandumb Megamess, MAD #385, September 1999
A MAD Look at Episode I: The Fantom Menace: The Hype, MAD #385, September 1999
A MAD Look at Episode I: The Fantom Menace, MAD #385, September 1999
Jar-Jar Binks: Intergalactic Stepin Fetchit, MAD #389, June 2000
The 21 Hottest Internet Rumors Regarding Star Wars: Episode II Attack of the Clones ', MAD #418, June 2002
Spy Vs. Spy: Star Wars: Attack of the Clones , MAD #419, July 2002
The Jedi Bunch, MAD #419, Jult 2002
Anakin Skywalker: The High School Years, MAD #419, July 2002
Startling Similarities Between Star Wars and War on Terrorism, MAD #419, July 2002
Who's in the Crowd in the New Star Wars Sentate Scene, MAD #419, July 2002
MAD 's Ecchbay Item of the Month: Attack of the Clones, MAD #419, July 2002
A MAD Look at Star Wars: Attack of the Clones , MAD #421, September 2002
Monroe and Star Wars , MAD #454, June 2005
Spy Vader Spy
Star Bores: Epic Load II Attack of the Clowns, MAD #421, September 2002
Gulf Wars: Episode II CLone of the Attack, MAD #424, December 2002
Star Wars: Episode III - Revenge of the Sith Opening Crawl, The Annotated Version, MAD#454 ,June 2005
A Day in the Life of George Lucas, MAD# ,454, June 2005
What Caused Anakin Skywalker to Become Darth Vader?, MAD#454 ,June 2005
If the Star Wars Galaxy had Classified Ads, MAD#455, July 2005
Titles George Lucas Considered for the Next Star Wars Movie, MAD#447, November 2004
Star Bores: Epic Load III Retread of the Sh*t!, MAD#456, August 2006
Forced Laughter, MAD#459, November 2005
Rejected Star Wars Stamps, MAD#479 ,July 2007
The MAD Star Wars Celebrity Yearbook
Where Are Some Very Successful Actors Coming From Lately?, MAD #199, June 1978
What Safe, Cheap Star Wars Technology Would We Like To Suggest to the Pentagon?, MAD #256, July 1985
What Epic Struggle Will Resume This Summer but Fail to Live Up to Its Predecessor?, MAD #381, May 1999
What Eagerly Anticipated Event Is Finally Upon Us?, MAD #383, July 1999
Which Epic Space Battle Will Prove to Be the Bloodiest?, MAD#454, June 2005
Alfred as Darth Vader, MAD #196, January 1978
The MAD Star Wars Musical, MAD #203, December 1978
Alfred as Yoda, MAD #220, January 1981
Mr. T as Darth Vader and Alfred as Wicket, MAD #242, October 1983
Alfred as Jabba the Hutt, MAD #354, February 1997
Star Wars Characters' Bodies Spelling Out "Star Wars", MAD Star Wars Spectacular, summer 1999
Collector Covers Parodying the Episode I Poster, MAD #383, July 1999
Alfred as Darth Maul, MAD #September 1999
Collector Covers Parodying Attack of the Clones, MAD #419, July 2002
Alfred as Emperor Palpatine, MAD #454, June 2005
External links
Edit