MC40a light cruiser
Talk

28
103,569pages on
this wiki
MC40a light cruiser
Production information
Manufacturer
Product line
Model

MC40a light cruiser[1]

Class
Technical specifications
Length
Maximum acceleration

4 MGLT/s[2]

MGLT

>60 MGLT[2]

Engine unit(s)

3 thrusters[2]

Shielding

1696 SBD[2]

Hull

800 RU[2]

Armament
Complement
Crew
Passengers

650 troops[2]

Usage
Role(s)
Era(s)
Affiliation
The MC40a light cruiser or Mon Calamari Light Cruiser was a Mon Calamari Star Cruiser design.[1]
Characteristics
Edit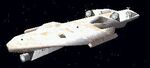 The MC40 was a small Rebel capital ship, larger than the Imperial Strike-class medium cruiser. It was equipped with powerful shields for a vessel of its size. Its three engines gave it a higher speed than the bigger MC80a Star Cruiser, and it was more maneuverable. The MC40 had a large, portside hangar and could carry one starfighter squadron.[1]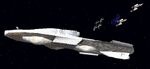 The MC40 light cruiser was constructed some time prior to the Battle of Hoth.[1] It saw heavy use in the year leading up to the Battle of Endor.[2]
Ships of this kind accompanied larger vessels like the MC80 Star Cruiser.[2]
Behind the scenes
Edit
Interestingly, in Star Wars: TIE Fighter, the standard MC80 Mon Calamari Star Cruiser does not feature in any storyline missions, showing up in just two combat simulation missions. It is possible that the MC80 did not feature much because of balancing or performance issues.
Appearances
Edit
Notes and references
Edit