Machook
Talk

4
103,615pages on
this wiki
Machook
Biographical information
Homeworld
Physical description
Species
Gender
Hair color

Brown[1]

Eye color

Brown[1]

Chronological and political information
Era(s)
Affiliation
Machook was an Ewok who participated in a conflict with the Lahsbees after the Battle of Endor. He shared a name with a figure of Ewok legend, one said to have been a hero who built the first tree village on Endor.
Behind the scenes
Edit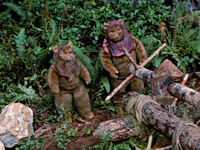 Machook is often incorrectly identified as Romba. He received his first Hasbro action figure in 2008, as part of an Ewok three-pack including Keoulkeech and Kettch.
There are two different Ewoks with similar facial features who have been identified as Romba. The first is a brown-hooded Ewok who was made into an action figure by Kenner, one of "the last seventeen."[2] This particularly short Ewok, who has a brown hood that ties together at the neck, appears in a scene where he mourns for Nanta who was killed. He was played by Debbie Lee Carrington.[3]
A Decipher CCG card produced years later identified Machook, a taller ewok and with a pinkish hood, as Romba,[4] while the original Romba was featured anonymously on another card.[5]
This misattribution was repeated in Star Wars Fact File 109. But in 2007, Leland Chee apparently corrected the situation by identifying Carrington's Ewok as Romba in time for her appearance at Celebration IV.[6] The same year, a new action figure of Romba was produced by Hasbro, again with the proper likeness.[7]
The Ewok suit Debbie Carrington wore for Romba in Return of the Jedi is apparently the same suit she later wore as Weechee Warrick in Caravan of Courage: An Ewok Adventure[6] while Machook seems to have made his way into Caravan of Courage: An Ewok Adventure, appearing when the village prepares the caravan's journey.
Appearances
Edit
Notes and references
Edit
↑ 1.0 1.1 1.2 1.3 1.4 1.5 1.6  Leektar in the Databank (content now obsolete; backup link on Archive.org)
↑ Star Wars Customizable Card Game – Endor Limited (Card: Romba)
↑ 6.0 6.1  "Ewok Roster" – "Sompeetalay's Source Blog," Tim Veekhoven's StarWars.com Blog (content now obsolete; backup link on Archive.org)
External links
Edit